Trends and issues affecting the global industrial sector
Survey of Stanton Chase International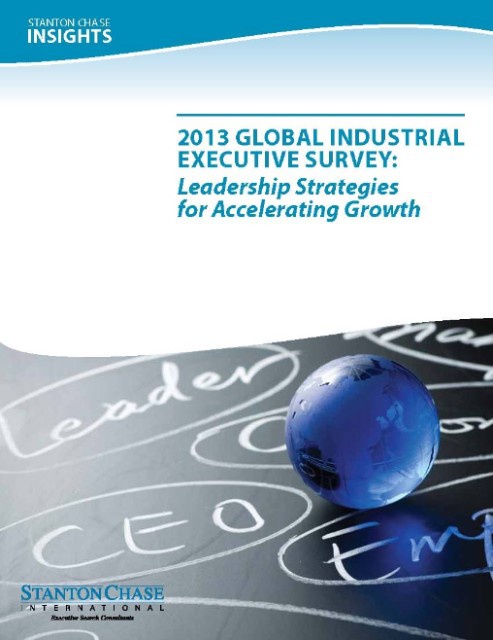 In June and July of 2013, Stanton Chase International undertook an online survey of executives in the global industrial sector to understand trends and issues affecting these businesses. 451 industrial executives from around the world participated and contributed their insights. This report outlines the findings of the survey and provides a brief analysis of emerging issues.
Despite intense global competition, the international industrial sector has a positive outlook and appears to be undergoing a form of resurgence, though leadership challenges are presenting a roadblock. The evidence for this is in four trends.
1. Focus on Organic Growth
There is a shift away from growth by acquisition, and a shift towards organic growth driven by investments in core business and related core competencies. Firms are investing in new markets, new products and technology financed by bank and debt financing.
2. Strategic Investments in Technology
Investments in technology are driven by goals in core competency development, customer experience, and quality/efficiency. These include investments in Customer Relationship Management (CRM), research and development, supply chain management and manufacturing robotics and automation.
3. Reshoring
While offshoring of manufacturing is still going on, a reshoring trend has started. Firms in developed markets see reshoring opportunities especially for sophisticated and technology-intensive products.
4. Significant Leadership and Management Challenges
Firms acknowledge a continuing shortage of leadership talent citing deficits in vision and strategic thinking, entrepreneurship and creative thinking, and general management skills. Industrial firms are particularly challenged by the shortage in engineering talent, especially with business skills. There appear to be underlying issues in the education, preparation and development of leaders, and a heightened interest in honesty and integrity.
Read the complete report (link zum pdf)
Further information: www.stantonchase.com